---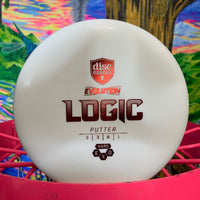 Shade of disc color may vary. For example, yellow can be a mustard yellow or a bright yellow.
The logic is a low profile bead less putter. It flies straight with a little fade at the end, and is very comfortable in the hand for putting.
Speed: 3 Glide: 3 Turn: 0 Fade: 1
The EXO Hard plastic is a grippy and tacky plastic made especially for close ranged shots. Its similar to Latitude 64's Zero Hard plastic.