---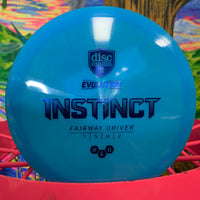 Shade of disc color may vary. For example, yellow can be a mustard yellow or a bright yellow.
The Discmania Instinct is the first disc released in Discmania's Evolution line manufactured by Latitude 64. The Instinct is a stable fairway driver, perfect for those straight shots up the fairway with a touch of fade at the end. 
Speed: 7 Glide: 5 Turn: 0 Fade: 2
Discmania Evolution Neo plastic is manufactured by Latitude 64. It is a mix of opto and gold line plastic, resulting in a creamy, not quite opaque plastic blend. It feels great in the hand, like all Latitude plastics do!