---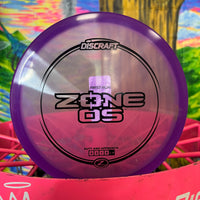 Shade of disc color may vary. For example, yellow can be a mustard yellow or a bright yellow.
The highly anticipated First Run Zone OS from Discraft, Inc has arrived - the ultimate utility disc for all disc golfers' on-course needs! This overstable disc has been in high demand for years and is finally available to take players' game to the next level.
The Zone OS has earned its stripes as a PDGA certified beefcake, thanks to its impressive torque resistance and assertive fade. Whether a player needs a disc for forehand throws, spike hyzers, or approach shots, the Zone OS can handle it all, even the toughest of winds and terrain. Its overstable flight makes it perfect for players who demand reliability and consistency from their disc golf equipment. With the Zone OS in their bag, players can take on any challenge with confidence and precision. Try the Zone OS today and take your game to the next level with this versatile and dependable utility disc.
Speed: 4 Glide: 2 Turn: 1 Fade: 5