---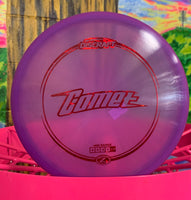 Shade of disc color may vary. For example, yellow can be a mustard yellow or a bright yellow.
The Discraft Comet is a very popular straight-flying, slightly understable midrange disc. This is a versatile disc that can handle all kinds of shots and conditions. Discraft gives the Comet a stability rating of 0.
Speed: 4 Glide: 5 Tun: -2 Fade: 1
Z-Line is Discrafts most durable plastic blend. This is a hard translucent plastic that is available in vibrant colors. Discraft claims that this plastic is the choice of pros under normal conditions for slow seasoning.