---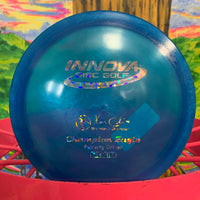 Each disc is a unique blend of colors. No two discs are the same. 
Gregg has relied on the Eagle as a major weapon in his forehand and backhand arsenal for years, and it helped him on his way to a 2018 World Championship. These swirled Star Eagles are a dependable fairway driver that you'll be proud to add to the bag. Each disc is a unique blending of colors, no two are the exact same. A substantial portion of each sale will benefit Gregg Barsby and his touring efforts.
The Eagle is a popular fairway driver used by players of all skill levels. This was Innova's original high speed fairway driver. It is a slightly overstable driver with a degree of high speed turn. For advanced players, this gives it a straight flying flight pattern with a predictable finishing fade.

Speed: 7 Glide: 4 Turn: -1 Fade: 3
Star plastic is the most premium of Innova's plastic blends. Star plastic provides maximum grip and durability. Star plastic is also highly visible.