---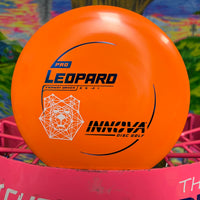 Shade of disc color may vary. For example, yellow can be a mustard yellow or a bright yellow.
The Leopard is the classic straight flying Innova fairway driver. This disc is very popular in starter sets thanks to the reliable flight path and limited fade. It's not the fastest flying disc (speed 6) but new players will likely see more distance with the Leopard than just about any other disc. While the Leopard is great for beginners, it can be found bags of more advanced players as well. With moderate throws this disc is perfect for weaving between narrow lines of trees. It also makes a good turnover driver that slices to the right, and a good roller disc. 
Speed: 6 Glide: 5 Turn: -2 Fade: 1
Best Choice for: Tailwind fairway driver, Anhyzer shots, Roller shots.