---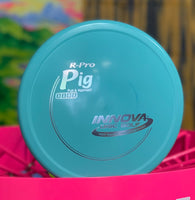 Shade of disc color may vary. For example, yellow can be a mustard yellow or a bright yellow.
This overstable putter has a big thick Thumtrac Rim. The Pig is a slow overstable disc that hardly glides. It's great for hyzer putts and throwing into headwinds. 
Speed: 3 Glide: 1 Turn: 0 Fade: 3
Best Choice for: Hyzer putting, Windy putts, Reliable approach shots.