---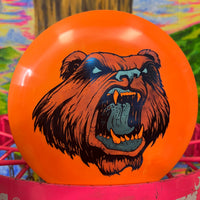 Shade of disc color may vary. For example, yellow can be a mustard yellow or a bright yellow.
XXL 2 foil design By Marm O. Set
The Innova Leopard3 is the faster less glidey version of the popular Innova Leopard. this disc has a nice controllable turn right out of the box. With a smooth throw the Leopard 3 will fly lazer straight. With power this disc will turn hard and finish right (with a right hand backhand throw). 
Speed: 7 Glide: 5 Turn: -2 Fade: 1