---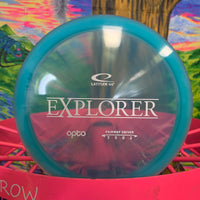 Shade of disc color may vary. For example, yellow can be a mustard yellow or a bright yellow.
The Latitude 64 Explorer provides a straight flight path and controlled glide. It is a disc that is designed to be the workhorse for a variety of accurate fairway drives. This stable and versatile fairway driver was developed in cooperation with World Champion, Ricky Wysocki. As a go-to disc for controlled, medium-power precision on the fairway.
Speed: 7, Glide: 7, Turn: 0, Fade: 2.