---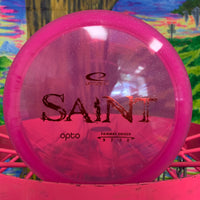 Shade of disc color may vary. For example, yellow can be a mustard yellow or a bright yellow.
he Saint is a fantastic straight flying driver that provides intermediate players with more distance. The flight path of this disc has a slight "S curve" with a slightly overstable net result. When thrown with power it has fairly significant turn followed by moderate fade.
Speed: 9 Glide: 7 Turn: -1 Fade: 2
Opto Line is made out of some of the world's most durable plastics. It comes in a variety of beautiful translucent colors. The Opto Line plastic has been developed to withstand severe punishment and extreme conditions better than other plastics.