---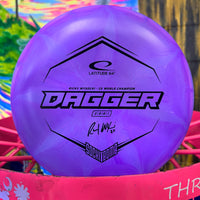 Shade of disc color may vary. For example, yellow can be a mustard yellow or a bright yellow.
The Dagger was developed with the help of pro disc golfer Dave Feldberg to bring Latitude 64 a deep beaded putter similar to the Discraft Challenger and Gateway Wizard. Compared with the Wizard, this disc is not quite as deep. The 1.5cm rim depth is .3cm less. The Dagger is designed to 'float' into the chains at lower speeds to minimize the probability of long comeback putts. This putt and approach disc should be a very straight flyer, perfect for lofting push putts.
Speed: 2, Glide: 5, Turn: 0, Fade: 1.