---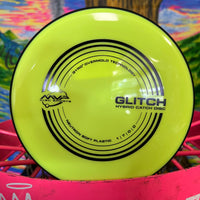 Shade of disc color may vary. For example, yellow can be a mustard yellow or a bright yellow.
The Glitch from MVP is a lightweight approach disc with very high glide that is made for low-speed, precision placement or long distance putting. It can be used as a catch-and-throw disc for warm-up and then used to reach the basket with ease, even making long putts feel effortless.
Speed: 1 Glide: 7 Turn: 0 Fade: 0
Neutron is a premium polymer blend that offers a unique look and feel while maintaining excellent durability. It is available in a wide variety of bright easy-to-spot colors.