---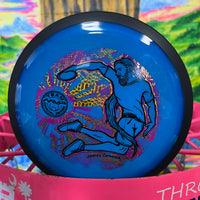 Shade of disc color may vary. For example, yellow can be a mustard yellow or a bright yellow.
The Zenith is a stable to overstable 11-speed distance driver. Lower power players will find the Zenith to be very workable and dependably overstable. Higher power players will find a straight to slightly overstable flight with high accuracy.
The Zenith is the first distance driver in James Conrad's line of discs. If you look up the coordinates on the stamp, you will find a secret, beautiful location.
. Speed: 11 Glide: 5 Turn: -.5 Fade: 2