---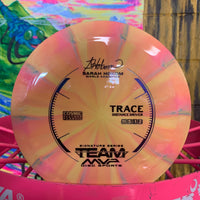 Shade of disc color may vary. For example, yellow can be a mustard yellow or a bright yellow.
The Streamline Trace is a thin rimmed disc golf driver that is easy to control. The Trace is the first single mold disc manufactured by the MVP manufacturing facility. This stable driver has excellent glide and a consistent end of flight fade.
Speed: 11 Glide: 5 Turn: -1 Fade: 2
Cosmic Neutron is Streamline's neutron plastic with added swirl / burst efffects.