---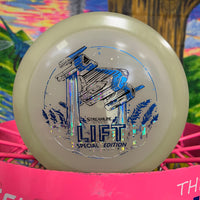 Shade of disc color may vary. For example, yellow can be a mustard yellow or a bright yellow.
The Lift is a straight to understable distance driver. It's the perfect disc for newer players or advanced players who want to navigate through the woods or throw hyzerflips for great distances!
Speed: 9 Glide: 5 Turn: -2 Fade: 1.5
Streamlines Neutron plastic has the same opaque look as MVP Neutron but with a softer more comfortable feel made specifically for single mold discs. Neutron is reasonably durable and offers a satisfactory grip. This plastic is comparable with Innova Star.