---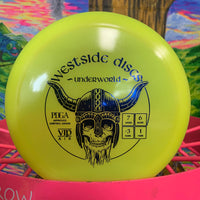 Shade of disc color may vary. For example, yellow can be a mustard yellow or a bright yellow.
The Westside Underworld is the ideal driver for beginners. This understable disc has a high degree of high-speed turn, followed by minimal low-speed fade. It has a moderate sized 1.9cm rim, and a comfortable feel that will provide new disc golfers more control and distance than most other discs. For more experienced players, the Underworld is great for straight hyzer flip throws that will go the distance.
Speed: 7 Glide: 6 Turn: -3 Fade: 1
About VIP Air
:
The Air Technology allows Westside Discs to lower the weight on both the flight plate and the rim. In the rim, effort has been put into guiding the majority of Air towards the center. This is done to give better impact resistance to the edge and bottom of the rim. As always lighter weights means a little bit less stability in the wind so expect the Air models to behave accordingly.